There have been a lot of different trends when it comes to fitness. Whether it be the devices you see on TV or some diet your friend has told you about over some coffee. The fact is that there are plenty of them out there but the thing is there have also been some really odd ones, so take a look at these weird trends seen in fitness that you may not expect.
Running Backwards
This is an interesting one, some of you may realise that if you run backwards even for a short time, you feel the different muscles that you use because it's not a natural motion of your body.  It also makes you use thirty per cent more energy than running normally along with causing less damaging to the knees. The issue with this, of course, is that while running the wrong way you have no clue where you are going so you may need a spotter.
Circus Classes
It's becoming more and more common to see people picking up hobbies one may consider a bit odd. From flow arts such as fire twirling to other weird hobbies and believe it or not some of these Circus like activities help with getting fit. One of these is learning Trapeze which is something that just seems outlandish however is a fad that has been happening more and more. Especially with silk Ariel.
Tape
Tape has been used in a lot of sport along with other Fitness regimes all over, but this one is a bit different. This tape is called Kinesiology tape and is used mainly to help injured people be able to walk easier along with actually helping blood flow to affected areas. You'd be surprised in the way this stuff has improved, it's even been used in the Olympics to help people that have suffered injuries still be able to compete.
Skateboards
Skateboards are a common thing among the youth, but they have now made their way into fitness classes. There are classes based around getting people to practice all the things they do while balancing on the board. This, of course, is a very odd trend, and it doesn't use regular boards but instead uses the small boards known as penny boards because of their size.
Mermaid Course
In Australia, there is actually a course where you can learn how to be a mermaid as a fitness class. You put on unique mermaid tails before jumping in and getting to work on becoming a mermaid. Don't think it's all lazing around either because word on the street is the classes are actually great for fitness which can help with core strength.
Kangaroo Dancing
Remember a while ago those shoes that kids wore that were kind of like springs, right? Well, they have come back, and this time into fitness, there are now groups that use these for all different types of exercises. From skipping to jogging, it's really rather something. They even offer dancing classes on these things. Can you imagine just how hard it must be to dance in shoes that add such a bounce to your step?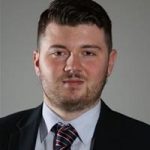 David Smith was born and raised in Calgary Alberta and loves to share his passion for health and fitness with others. Apart from running his own podcast, which uploads weekly shows that covers current health trends, he spends his time canoeing and backpacking.  David recently spent a summer working at the CFIA as a health supplement reviewer. In regards to academics, David studied kinesiology at Guelph University.