An injectable medicine for eczema can also reduce the symptoms of asthma, according to a conclusive clinical trial whose results were released Monday.
The drug in question, dupilumab (Dupixent, manufactured by the Regeneron Group), received its marketing authorization in the United States in 2017, at a price of $ 37,000 per year.
More than 2,000 patients with moderate to severe asthma participated in the study. The trial included injection of 200 to 300 milligrams every 15 days for one year.
The result is notable: the number of very dangerous asthma attacks has been divided by nearly two according to the study unveiled in the New England Journal of Medicine.
The drug reduces the most serious symptoms, and improves the respiratory function. This is important because patients suffer from a chronic disease that damages lung function over the years, say the doctors.
However, says Dr. Mario Castro, a professor at Washington University School of Medicine, "to date, we have no asthma medication to change the course of the disease."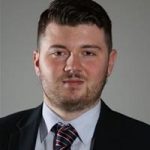 David Smith was born and raised in Calgary Alberta and loves to share his passion for health and fitness with others. Apart from running his own podcast, which uploads weekly shows that covers current health trends, he spends his time canoeing and backpacking.  David recently spent a summer working at the CFIA as a health supplement reviewer. In regards to academics, David studied kinesiology at Guelph University.