Everyone knows that makeup is one of the big things on the beauty list but some people don't realise which types of makeup are the most important must have. This is an issue because there are so many different types of makeup you could but that it can just become confusing. So, this list will help you see what makeup you should always have on hand to help complete that look you've always wanted.
Primer
Primer is an excellent piece of makeup. It helps with you being able to keep it all on linger and also, they create a protective barrier for your skin. Primer is a must have for anyone that is keen to keep their makeup fresh all night long and is especially useful for when you are going out for long periods of time.
Concealer
Everyone knows that it can be hard to hide imperfections, but that is where the concealer comes in. Its whole point is to hide blemishes or other types of marks on your face. It's almost like another type of foundation that is a little thicker, but it's also long lasting making it great for when you are out and about for a while.
Face Powder
Face Powder is a piece of makeup that helps with the setting of the foundation. It helps with giving the foundation a finish along with also able to conceal small imperfection. Realistically it is a must-have of any makeup kit because you are never going to know when you may need it.
Blush
Blush is something that people actually don't always have on them, but it can be a potent tool. It makes you more youthful by bringing out the cheekbones of the person wearing it. People don't realise the power of blush which is why you should really consider looking into it more.
Setting Spray
This is another one to help with long times out of the house. Setting spray works kind of like a primer but on the outside of the makeup. You put it on after the makeup, so it lasts longer which in turn means you won't have to be re-applying out and about so often.
Mascara
It is an odd thing that men seem to have such thick eyelashes while women don't the weirdest part about it is that most women want thicker eyelashes which is where Mascara comes in. This cosmetic helps with the lengthening and thickness of lashes on the person who uses it. It is one of the most necessary pieces in a makeup kit for most people and is something you can easily keep on you as well in case you think you need to add a bit more later.
Lip Primer
A lot of people have the issue with lipstick because of how often it wears off. In so many cases people have to carry lipstick on them everywhere to freshen it up which can be one of the most annoying hassles in the world. Luckily Lip Primer will help with this issue because it's just like all the other primers except for your lipstick.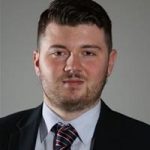 David Smith was born and raised in Calgary Alberta and loves to share his passion for health and fitness with others. Apart from running his own podcast, which uploads weekly shows that covers current health trends, he spends his time canoeing and backpacking.  David recently spent a summer working at the CFIA as a health supplement reviewer. In regards to academics, David studied kinesiology at Guelph University.